Bonsai terrarium: Introduction
Bonsai are beautiful, but often considered hard to maintain. Watering them properly is especially tricky. However, it is possible to avoid this problem by keeping your bonsai in a terrarium, where watering is almost not necessary. This post will show you how to make bonsai terrarium. It is easy!
The glass
For the bonsai terrarium to look beautiful, you need a good quality container. The easiest is to find a vase, about 30 to 40 cm tall and 20 cm in diameter, and find a lid that fits, usually from a food storage jar. It is best to use a glass lid, since it lets natural light in. You can put the terrarium under a lamp for extra light.
The drainage
A drainage layer at the bottom of your bonsai terrarium is important, in order to have a water reserve and keep excess water from the soil. It can also be very decorative, you can use colored gravel and sand. For the bonsai terrarium, I use aquarium gravel and sand. I first put a thin layer of white aquarium gravel, then a thin layer of black aquarium gravel, on top of which I add a layer of aquarium sand. On top of the sand I add a layer of coal (the coal used in aquarium filters has a good particle size). The coal filters the water, preventing fungal growth and bad smells.
The substrate
The substrate comes on top of the drainage layer and it should be a mix of good quality potting soil, sand and a bit of coal.
The plants of a bonsai terrarium
Many plants can be used in a terrarium, but for the bonsai terrarium the focus should be on the tree. I chose Ficus ginseng since it is available at most plant stores and it is a houseplant, meaning it will thrive in a terrarium environment, with less light and a high humidity compared to outdoors. I added moss and Fittonia (nerve plant) cuttings. Fittonia grows slowly (so it will not overshadow the bonsai tree). You can just take a cutting from a potted plant and put in in the terrarium, it will survive and make roots.
The decomposers
Decomposers are a good addition to a terrarium. They will consume mold, dead plant matter and provide nutrients for the plants. This turns the terrarium into a small ecosystem that will keep plants happy for a long time. For the bonsai terrarium I chose to add small white isopods. They like to hide in the substrate and will not be too visible.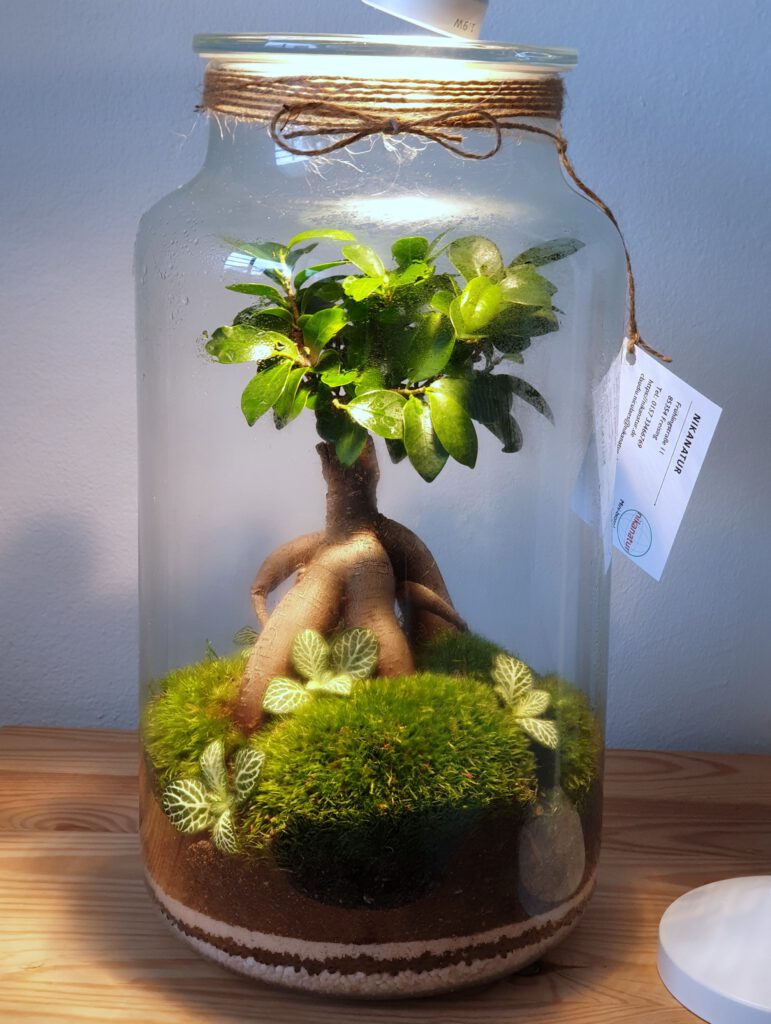 Maintaining your bonsai terrarium
After creating your bonsai terrarium, you should spray water on the plants until you see the gravel at the bottom get wet. With a fitting lid, the terrarium will not need water for many months. Sprinkle more water if you see that the gravel at the bottom is getting dry. Place the terrarium in a spot with enough light for a houseplant, but not in direct sunlight. For more tips and questions about maintaining a terrarium, please see our Tips/FAQ page. More general info about terrariums you can find on our Home. If you like our post, please follow us on Facebook, Instagram or Pinterest. You will get pictures of our latest terrariums and more!